SMITH QUARTET ARE THE NEW ENSEMBLE IN RESIDENCE AT TRINITY LABAN
The quartet commenced their residency on January 9th 2018 with a day of activity, a talk by Head of Composition Dominic Murcott, a performance of works by Kevin Volans and Philip Glass, and coaching sessions with student performers.


More information: www.TrinityLaban.ac.uk


New Smith Quartet CD release: Michael Nyman's String Quartets 5 and 4
The Smith Quartet launched their new CD of Michael Nyman's String Quartets 5 and 4 at Trinity Laban's stunning home, King Charles Court, Greenwich, London on 09.01.2018. The event was celebrated with a reception before a live performance of Michael Nyman's Quartet No.5 Let's not make a song and dance out of this from The Smith Quartet. The CD is available to buy from Amazon HERE.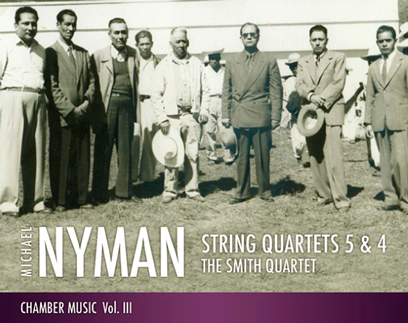 More information: www.michaelnyman.com

2017 highlights
Last spring, the quartet continued its long established collaboration with Shobona Jeyasingh Dance with a UK tour of Material Men redux, a new full length version of the original production that premiered at the QEH, London in 2015; featuring music by Elena Katz-Chernin and sound design by Leafcutter John. The production had its Italian premiere in the stunning Teatro Alighieri as part of the 2017 Ravenna Festival.


More information: ShobanaJeyasingh.co.uk


MATERIAL MEN redux – 2017
"Shobana Jeyasingh weaves the shared history and personal stories of virtuoso dancers Sooraj Subramaniam and Shailesh Bahoran into powerful dance and potent imagery. The styles of these two dazzling performers of the Indian diaspora could not be more different – classical Indian dance and hip hop – but the men share a history rooted in the dark realities of colonial migration and plantation labour. Material Men redux is a dynamic and moving exploration of the violence of loss and the creation of new ways of belonging."
Press release


"The evening was a jaw-dropping delight…"
Stagetalk Magazine (5 stars)


"…marvellously intense… the double edges of clarity and complexity, contrast and connection, are pure Jeyasingh…"
The Guardian (5 stars)




The quartet also appeared at the historic Chiostro della Biblioteca Classense, performing the Italian premiere of Michael Nyman's 5th quartet as well as works by Gavin Bryars and Steve Martland as part of the Ravenna Festival programme.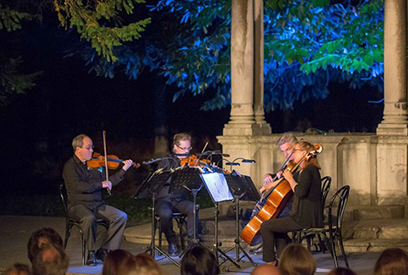 More information: RavennaFestival.org